'Wanderlust' starring Paul Rudd, Jennifer Aniston: movie review
'Wanderlust' journeys into nudist, free-love territory – among other things – and largely misses the mark on humor.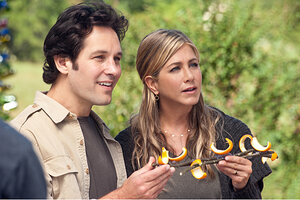 Gemma La Mana/Universal Pictures/AP
"Wanderlust" is a flabbergastingly inane movie from the Judd Apatow mill. This may sound like a recommendation for those who expect nothing less (or more) from Team Apatow, but trust me, this movie doesn't deliver on any level, high or low.
Jennifer Aniston and Paul Rudd play Linda and George, hapless New Yorkers who, hit by the economic downturn, drive to Atlanta where a job with a portable-toilet company, courtesy of George's boorish brother, awaits. They get sidetracked at a hippie commune called Elysium, which seems to have been caught in a 1960s time warp. This movie is "Finian's Rainbow" for dunderheads. Rudd has a few amusing moments talking to himself in a mirror (he's trying to convince himself he's a stud) but he would have been better off talking himself out of this film. Grade: C- (Rated R for sexual content, graphic nudity, language, and drug use.)