7 adaptations of Dr. Seuss's stories
"My name is the Lorax, I speak for the trees" has become an even more well-known phrase in the age of going green, and this weekend, a CGI-animated adaptation of Dr. Seuss's book "The Lorax" will be arriving in theaters. The movie is being released following the CGI-animated 2008 film "Horton Hears a Who," and while that movie enjoyed critical success, not all Seuss movies have been as lucky. Here are seven of the most well-known film adaptations of Dr. Seuss's books – the good and the bad.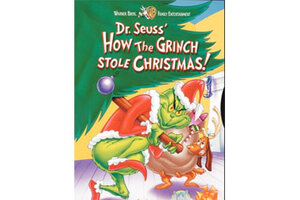 1.

'How the Grinch Stole Christmas!'

Perhaps the most beloved Dr. Seuss adaptation, the 1966 TV special tells the story of the Grinch (turned green for the adaptation) who hates the Whos and the whole Christmas season, but learns the true meaning of the holidays when he tries to steal the Whos' presents. The special is now broadcast on TV every year and still regularly wins its timeslot. Horror actor Boris Karloff did double duty as the narrator and the Grinch, but his voice for the Grinch was adjusted so the higher parts of his speaking voice were taken out and a gravelly tone remained.