To Rome with Love: movie review
Director and actor Woody Allen's new film is sweet but not particularly memorable.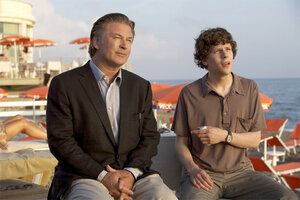 Philippe Antonello/Sony Pictures Classics/AP
Woody Allen has been globe-hopping for a while now; and in "To Rome with Love," he's alighted upon the Eternal City – with very mixed results. He himself plays a role in the film as an uncomfortably retired opera director who flies with his wife (Judy Davis) to Rome to meet his future son-in-law and discovers that the boy's undertaker father (Fabio Armiliato) has a great singing voice – but only when he's singing in the shower.
Allen interweaves a complicated cross section of stories into the mix, including one involving Jesse Eisenberg as a budding architect smitten by the seductive friend (Ellen Page) of his girlfriend, played by Greta Gerwig. (The actresses should have swapped roles.) Penélope Cruz is amusing, in an early Sophia Loren kind of way, as a hooker with a heart of fool's gold. It's all rather sweet but instantly evanescent. Grade: B- (Rated R for some sexual references.)