'Lincoln': 6 actors who won Oscars for portraying historical figures
In addition to an uncanny resemblance to our sixteenth president, Daniel Day-Lewis's reproduction of Abraham Lincoln's voice and his powerful screen presence already has Oscar pundits placing him as the frontrunner for this year's Best Actor Oscar. Here are a few other actors who won the coveted prize for playing a real figure.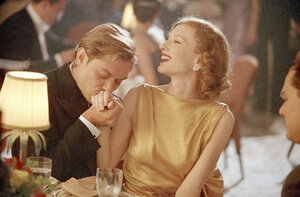 1.

Cate Blanchett

Daniel Day-Lewis is currently a frontrunner in the Best Actor Oscar race despite the nominations for the awards ceremony not being officially announced until Jan. 10. In the movie "Lincoln," directed by Steven Spielberg, he portrays the sixteenth president as the South prepares to surrender at the end of the Civil War and he fights to abolish slavery before the southern states rejoin the federal government. "Day-Lewis is far too wily an actor to simply give us a stooped, woebegone Lincoln and leave it at that," Monitor film critic Peter Rainer writes of Day-Lewis's performance. "He employs a high, wavering voice (apparently historically authentic) as a subtle, wheedling instrument." Other critics have also been impressed with the actor's portrayal of the president. "The experience of watching Daniel Day-Lewis in this role is nothing less than thrilling," San Francisco Chronicle critic Mick LaSalle wrote. "This is Lincoln. No need for a time machine, there he is." The New York Times critic A.O. Scott agreed, writing that "Daniel Day-Lewis… eases into a role of epic difficulty as if it were a coat he had been wearing for years… His Lincoln speaks in a reedy drawl that provides a notable counterpoint to the bombastic bellowing of some of his allies and adversaries." Interestingly, another frontrunner in the Best Actor race is John Hawkes for his role in "The Sessions" as the late writer Mark O'Brien. Reviews for Hawkes have been similarly favorable, with Rainer calling it "a remarkable performance."

For her role as Hollywood legend Katharine Hepburn, Blanchett won her first Oscar, for Best Supporting Actress, in 2004 for "The Aviator." "Cate Blanchett is even better [than Leonardo DiCaprio] as Katharine Hepburn, striking an excellent balance between mere impersonation and finely tuned psychological acting," then-critic David Sterritt wrote of the movie.