Oscars 2013: 8 movies that could earn a Best Picture nod
With nominations for critical predictors like the Screen Actors Guild Awards and the Golden Globes announced, Oscar fans are closer than ever to being able to guess which movies will earn nominations for the all-important Best Picture Oscar prize this year. Some contenders' chances have dropped as their buzz has faded, and others' stars have risen as they've earned SAG and Golden Globe nominations that may give them a better chance in the race. Remember, the Academy can choose to nominate between five and 10 movies for the top prize. Here are 8 that currently stand the best chance.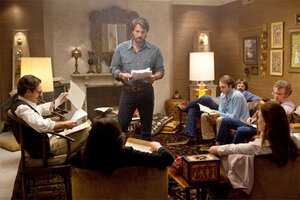 1.

'Argo'

Director Ben Affleck's drama centering on the CIA mission to get six American diplomats out of Iran during the 1979 hostage crisis was nominated for Best Motion Picture – Drama by the Golden Globes and earned a nod for Outstanding Performance By A Cast In A Motion Picture (the closest equivalent to Best Picture at the SAG Awards) from the Screen Actors Guild.