'Bless Me, Ultima' has moments where its magical realism shines
'Ultima' strains to be a classic, but the film does have lovely sections.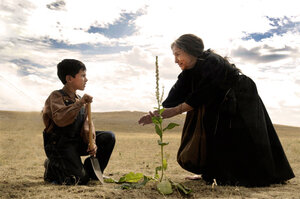 Arenas Entertainment/AP
Rudolfo Anaya's 1972 novel "Bless Me, Ultima" is a classic of Chicano literature and the movie it's based on strains to be a classic as well. It's about 6-year-old Antonio (Luke Ganalon), who comes of age in rural New Mexico when his native healer grandmother Ultima (Miriam Colon) comes to live with his family. Antonio witnesses all manner of grace and bloodshed. He tries to reconcile the teachings of his Roman Catholic education with the mysticism all around him as incarnated by Ultima.
Writer-director Carl Franklin offers up a tone of heightened reverence that weighs down the material, but there are small, lovely moments when the magic realism approaches the magical. Grade: B (Rated PG-13 for some violence and sexual references.)