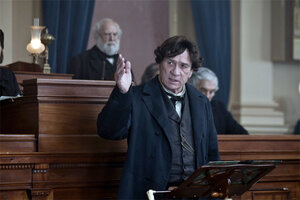 2.

Best Supporting Actor

The Oscar contenders:

–Alan Arkin, "Argo"
–Robert De Niro, "Silver Linings Playbook"
–Philip Seymour Hoffman, "The Master
–Tommy Lee Jones, "Lincoln"
–Christoph Waltz, "Django Unchained"

The verdict: Waltz took the Golden Globe for Best Supporting Actor for his role as the German dentist Dr. King Schultz, but Jones snagged the Screen Actors Guild Award for his role as firebrand politician Thaddeus Stevens. De Niro has been getting increasing buzz for his role as a sports-loving father in "Playbook," but Jones, a frontrunner for much of the race, may beat him and Waltz out for the award. Jones won an Oscar in 1994 for Best Supporting Actor for "The Fugitive" and was nominated for Best Supporting Actor in 1992 for "JFK," while he was nominated for Best Actor in 2008 for "In the Valley of Elah."