Jennifer Lawrence: 3 reasons why she's charmed Hollywood
Jennifer Lawrence is not your average Academy Award winner.
The 22-year-old is klutzy (she tripped on the stairs at the Oscars before accepting her award for 'Silver Linings Playbook'), watches the TLC reality show "Dance Moms" (and isn't afraid to admit it), and prefers hanging out at home to lavish nights out.
And this is exactly why many in Hollywood, and some outside it, seem to love her.
Here's a few reasons why she's got Hollywood hooked.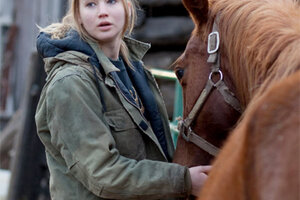 1.

She's branched out

Some Hollywood stars seem to go for the money-making movie franchises and nothing else. It would be easy for Lawrence to do the same, considering her leading role as Katniss Everdeen in the young adult franchise "The Hunger Games." According to the website Box Office Mojo, the first film in the series, which was released last spring, grossed more than $686 worldwide in the box office. However, Lawrence avoids sticking to one type of character. Even before her Oscar win, Lawrence was nominated for the Best Actress award for the indie film "Winter's Bone" in 2011.

After viewing Winter's Bone, The Christian Science Monitor's film critic said of Lawrence: "She's probably the most gifted actress of her generation. How wonderful that, so young, she has already found a role worthy of her talent."