The strength of 'Ain't Them Bodies Saints' lies with its actors
'Saints' includes great turns by actors Ben Foster and Keith Carradine, though the movie isn't quite as epic as it thinks it is.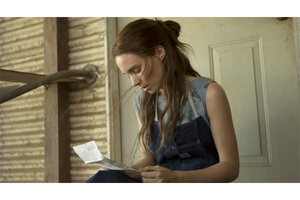 Steve Dietl/IFC Films/AP
There's less than meets the eye in "Ain't Them Bodies Saints," the Sundance fave about an outlaw set against the backdrop of 1970s Texas Hill Country. Casey Affleck plays Bob Muldoon, who is sent to prison for a robbery and escapes. His wife, Ruth, played by Rooney Mara with her usual neurasthenic radiance, gives birth to his daughter while he's imprisoned. All he wants is to get his family back and out of the law's reach, but he leaves himself open to capture.
Writer-director David Lowery emphasizes the story's visual links to westerns from a much earlier era. Thematically at least, it's like a John Ford movie with pickup trucks. But everything plays out with a sodden deliberateness, as if something mythic were going on. No such luck. 
Lowery has a way with actors, though. As a local sheriff with an eye for Ruth, Ben Foster is excellent and, in a too-small role as a grizzled shopkeeper, Keith Carradine proves himself yet again to be one of our finest performers. Grade: B- (Rated R for some violence.)