'Labor Day' is engagingly sappy
'Labor Day' stars Kate Winslet and Josh Brolin.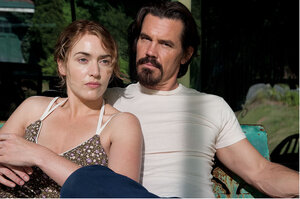 Paramount Pictures
Jason Reitman's engagingly sappy "Labor Day" is being denigrated in some circles as a glorified Lifetime channel movie, but it would also not seem out of place on The Food Channel. Based on Joyce Maynard's 2009 novel and set in leafy small-town New England in 1987, it's about Frank Chambers (Josh Brolin), an escaped convict who takes refuge with Adele Wheeler (Kate Winslet), a single mother, and her teenage son, Henry (Gattlin Griffith).
Frank is no ordinary felon. First of all, he's (kind of) innocent. He's also tough-tender and caring and a real gentleman. Most of all, he's a great cook. We see him whip up a first-class chili, but his specialty is peach pie, which we watch him prepare so lovingly that I was surprised Reitman didn't include the recipe in the end credits. Grade: B- (Rated PG-13 for thematic material, brief violence, and sexuality.)