'Walking With the Enemy' has inspirational origins, but the movie is dramatically inert
'Walking With the Enemy' stars Ben Kingsley.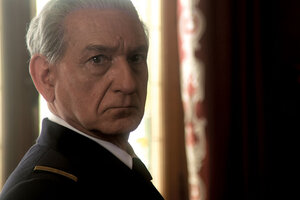 Liberty Studios
We are informed at the beginning of director Mark Schmidt's "Walking With the Enemy" that it is "inspired by a true story," and, at least on paper, the story is certainly inspirational. Based on the real-life exploits of World War II hero Pinchas Rosenbaum – called Elek Cohen in the movie and played by Irish actor Jonas Armstrong – it's about a Hungarian Jew who masquerades as a Nazi officer in order to save hundreds of his countymen from the death camps.
Because most movies about Holocaust saviors feature Jews as victims rather than as rescuers, "Walking With the Enemy," by contrast, has a special cachet. But the film is as dramatically inert as its origins are inspirational. Armstrong is blandly stalwart and the confrontations between the Nazis, including Adolf Eichmann (Charles Hubbell), and the Hungarian authorities, headed by Regent Horthy (Ben Kingsley), are so stagey you can practically hear the floorboards creak. For a much better example of a movie about a Jew impersonating a Nazi, you should seek out Agnieszka Holland's 1991 "Europa Europa," about a fleeing Jewish teenager who ends up drafted into Hitler's army. Grade: C (Rated PG-13 for war violence, including crimes against humanity.)