'Young and Beautiful,' the story of a teenage prostitute, is unnervingly dispassionate
'Young and Beautiful' stars Marine Vacth.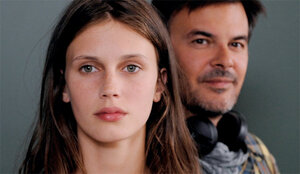 Courtesy of IFC Films
François Ozon's Cannes hit "Young and Beautiful" is an unnervingly dispassionate movie about a 17-year-old girl from a "good" middle-class family who willingly and inexplicably becomes a prostitute. Isabelle (Marine Vacth) lives at home with her kid brother (Fantin Ravat) and her mother (a fine Géraldine Pailhas) and stepfather (Frédéric Pierrot). She doesn't lack for money and is popular, if standoffish, at school. Although it's implied that her prostitution, which we see in sometimes graphic detail, is some sort of payback directed at her divorced dad, Ozon doesn't really spell anything out for us. He uses Vacth, a beauty who somewhat resembles the young Nastassja Kinski or Dominique Sanda, for her eerie, implacable hauteur. There is a mask behind her mask.
Ozon also attempts, less than successfully, to set up some sort of equivalence between Isabelle's hooking (late afternoons, weekdays only, in hotels) and the other financial transactions that we see, ranging from her baby-sitting gigs to the girls in her brother's class selling kisses for €5 apiece. The slippery slope in this movie is all too conveniently, and unconvincingly, slippery. Grade: B. (Unrated.)