'We Are the Best!' is a funny, happy movie about adolescents
'Best' follows three teenage girls who decide to start a punk group.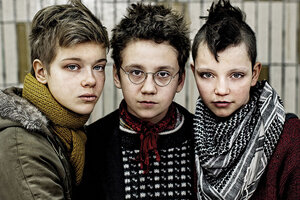 Magnolia Pictures
Lukas Moodysson's "We Are the Best!," set in Stockholm in 1982, is one of the funniest and happiest movies I've ever seen about early adolescent girls and their wayward, fitful joyousness. Based on a 2008 graphic novel by Moodysson's wife, Coco, that was inspired by her own teenage years as a punk-rock enthusiast, it's about three schoolmates who, without knowing the first thing about how to do it, start a punk group.
Bespectacled Bobo (Mira Barkhammar) and her best friend, Klara (Mira Grosin), who has the requisite mohawk, recruit the taciturn, devoutly Christian Hedvig (Liv LeMoyne), who actually knows how to play guitar. In one of the film's best moments, she calms down her warring band mates by having them repeat after her, "I like you. We like each other." Their punk career, such as it is, is hilariously off-key – which I guess means it's right on track. My favorite of their songs, composed in the wake of a hated, enforced basketball drill in gym class, is "Hate the Sport!" with its immortal lyric: "The world is a morgue, but you're watching Bjorn Borg!" Grade: A- (This film is not rated.)