'Life Itself' tells the story of legendary film critic Roger Ebert
'Life' shows that Ebert's greatest legacy was his courage at the end of his life.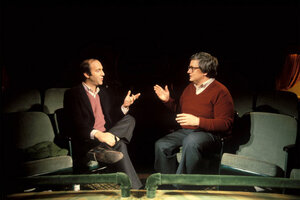 Kevin Horan/Magnolia Pictures/AP
Roger Ebert was probably the most widely popular film critic America has ever produced. His death in 2013, after a very public battle with cancer and a barrage of debilitating afflictions that left him unable to speak – or eat or drink without medical intervention – came not long after the publication of his memoir, "Life Itself." That book provides the title and the loose framework for the documentary-cum-testimonial by Steve James ("Hoop Dreams"), who combines interviews with many of Ebert's friends, family, and colleagues with sequences of the critic receiving treatment in the Chicago-area hospital where he spent his last days.
Ebert's wife, Chaz, who was her husband's ballast throughout his ordeals, is also very much prominent in this film, which offers a comprehensive run-through of his career, starting with his college newspaper days and moving on to the Chicago Sun-Times and the TV show with Gene Siskel, which started out small and then went national. James spends a lot of time (probably too much) delving into the rivalry between Ebert and Siskel. (He even provides outtakes from the show where the two are sniping each other; their antipathy, for much of their careers, was no act.)
The show was criticized by some for degenerating movie criticism into a quick-fix entertainment, but, compared with the slacker reaches of movie reviewing today, the show looks like the Oxford debate society. (My main objection to the show was that it didn't offer a thumbs sideways option – most movies, after all, are neither good nor bad.) 
Ebert, with whom I was friendly, had an ego as big as all outdoors, but, unlike most such people, he could also be tremendously generous, both to young filmmakers and to aspiring critics. When he could no longer appear on television, he doubled down on his writing (and blogging) and wrote some of his best criticism. His clear, sensible prose will probably hold up better than some of the more frantic efforts of his contemporaries. His greatest legacy, however, as this film documents, was his courage in the endgame of his life. Grade: B+ (Rated R for brief sexual images/nudity and language.)