'And So It Goes' is a generic romantic comedy
'Goes' stars Michael Douglas as a curmudgeonly real estate agent and Diane Keaton as his neighbor.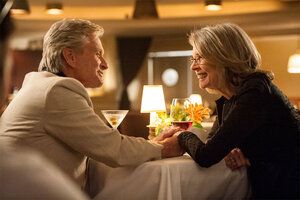 Clarius Entertainment
"And So It Goes," directed by Rob Reiner and written by Mark Andrus, is as generic as its title. Michael Douglas plays Oren, a real estate agent and world-class curmudgeon who is trying to sell his spacious Connecticut home for millions more than it's worth. A widower who still mourns his wife, Oren has a junkie son (Scott Shepherd), en route to jail, who unexpectedly shows up with his 9-year-old daughter (Sterling Jerins) in tow. Can Granddad care for the girl while Dad is doing time? 
Oren knew nothing of this girl and at first wants nothing to do with her, which is a tip-off that this Scrooge will soon enough become Mr. Cuddly. Abetting the lovefest is Diane Keaton's Leah, a neighbor, lounge singer, and widow. I trust you can connect the rest of the dots yourself. Grade: C+ (Rated PG-13 for some sexual references and drug elements.)