'Rabindranath Tagore: The Poet of Eternity' is more of a tutorial than a living history
'Tagore' does manage to convey the reverence that the poet, essayist, novelist, painter, and composer inspired.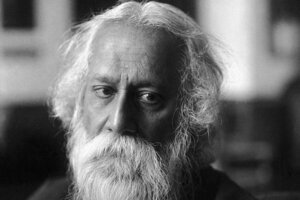 AP
Rabindranath Tagore (1861-1941) was, in his day, perhaps the most famous and universally acclaimed artist in the world. He was a poet, essayist, novelist, and short-story writer as well as a painter and composer of music. He was the first non-European winner of the Nobel Prize in Literature and also the founder of a progressive school that countered the orthodoxies of the prevailing education system in India. 
The documentary "Rabindranath Tagore: The Poet of Eternity," directed by Partha Bhattacharya, is aimed at an audience of students and educators, and it's more of a tutorial than a living history. But it does give us a sense of the sheer reverence Tagore rightly inspired. Grade: B (Unrated.)