10 of Robin Williams's best lines
Robin Williams was born in 1951. He described himself as a shy child until he became involved in his high school's drama department, where he soon proved himself to be a talented actor. In 1973, he was one of only 20 freshman students to be accepted into the prestigious Juilliard School for drama. During his career, Williams starred in everything from slapstick comedy to drama, taking on leading roles in iconic films such as "The Dead Poets Society," "Mrs. Doubtfire," and "Hook." He soon earned a reputation as one of the greatest comedians of his generation, known for the wide variety of characters he played in his films and his stand-up comedy.
Williams won awards for both his dramatic and comedic acting, including multiple Golden Globes, Emmy Awards, and an Oscar for Best Supporting Actor in "Good Will Hunting." A great improvisational comedian, Williams made up many of his best and funniest lines on the spot, even in films that were fully scripted.
He also starred in live stage shows both on and off Broadway, including a one-man show, "Robin Williams: Live on Broadway," in 2002. He went to war zones in order to entertain troops in Iraq and Afghanistan on multiple occasions, despite risks to his own personal safety. He made countless people laugh in his lifetime and inspired just as many. The Monitor commemorates Robin Williams with this list of 10 quotes from some of the characters he portrayed.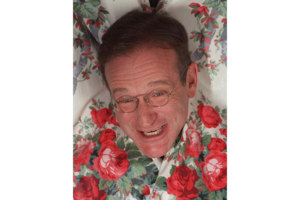 AP Photo/Jim Cooper, File
1.

Talent

"You're only given a little spark of madness, and if you lose that, you're nothing."

– from "A Night at the Roxy" comedy show (1978)