'Song of the Sea,' an animated feature from Ireland, has transcendent imagery
Our critic would put this movie and the film 'The Tale of Princess Kaguya' at the top of a list of the best children's films for all ages.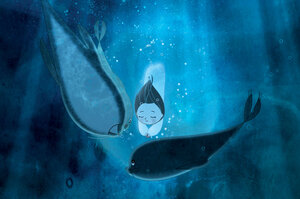 Courtesy of GKIDS
A wonderful hand-drawn animated feature from Ireland, Tomm Moore's "Song of the Sea," is yet another rebuke to all those audiences who only have eyes for computerized 3-D extravaganzas. Along with his production designer Adrien Merigeau and screenwriter Will Collins, Moore has concocted a fable inspired by the "selkies" of Irish myth – magical beings who live in the sea as seals and as humans on land. Two motherless children, Ben and his mute little sister, Saoirse, go on a fantastical journey guided by a magical shell flute belonging to their mother.
The plot may be a bit too busy, but a great wash of transcendent imagery floods the screen. If I had to recommend the best children's film out there for all ages, this one, and "The Tale of Princess Kaguya," would easily top the charts. Grade: A- (Rated PG for some mild peril, language, and pipe-smoking images.)