'Mommy' is mostly gaudy shout-fests
The movie stars Anne Dorval as a single mother who does what she can to control and calm her highly troubled son (Antoine Olivier Pilon). Much of the film is redeemed by Dorval's performance.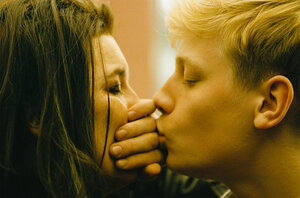 Courtesy of Roadside Attractions
The 25-year-old French-Canadian writer-director Xavier Dolan has a heady flamboyance that is sometimes mistaken by cineastes for high artistry. "Mommy," his latest, has its powerful moments, but too much of it is show-offy in ways that have more to do with camera moves than dramatic truth.It's about the relationship between a highly troubled youth, Steve (Antoine Olivier Pilon), and his single mother Diane (Anne Dorval). Steve is full of rages and recriminations – a real handful. Diane does what she can to control him and calm him. 
I suppose the relationship is Oedipal or primal or something or other, but mostly it's just an excuse for Dolan to stage a series of gaudy shout-fests. Much of the film, however, is redeemed by Dorval's performance, which somehow makes emotional sense out of Diane's many exhilarations and exasperations. Grade: C+ (Rated R for language throughout, sexual references and some violence.)