The top 6 Hollywood celebs: How do they rank in salary and charity?
The current highest-paid movie stars are raking in millions of dollars per film. Their talent and iconic roles have earned them large paychecks, leading some to wonder where that money goes.
If they are making millions, how many of them are actually giving back to charity?
The Hollywood Reporter recently released a list of Hollywood's top paid actors based on how much they earn per film. Leonardo DiCaprio topped that list, after being paid $25 million upfront to star in "The Wolf of Wall Street." Other leading male actors include Robert Downey Jr., Denzel Washington, and Matt Damon, who earn anywhere from $10 to $20 million per movie.
For actresses, Sandra Bullock has officially launched herself into success with her role in "Gravity," which earned her $20 million upfront and an additional $50 million after profits were factored into her agreement. Angelina Jolie scored $15 million for "Maleficent," and critics suspect she could earn $20 million – the amount she earned for "Salt" – if a "Maleficent" sequel comes about. Melissa McCarthy and Jennifer Lawrence are also climbing the ranks as their careers continue to blossom, netting over $10 million for their starring roles.
With so much money, it may come as a surprise to see how much of that money is used for charitable purposes. Even those who are quite charitable are called into question, with critics wondering if their efforts are truly philanthropic or simply publicity stunts. Regardless, their money – and time – goes towards causes they choose to champion, and the public is curious as to what those causes might be.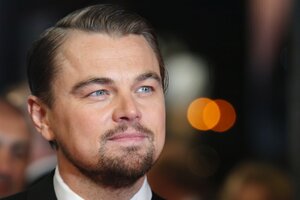 Suzanne Plunkett/Reuters/File
1.

Leonardo DiCaprio

Leonardo DiCaprio is one of the most sought-after actors in Hollywood at this time, earning $25 million for his role in "The Wolf of Wall Street." His co-star, Jonah Hill, received $60,000 for his part. "If you're [a big star], you're getting well paid," one top agent explained to The Hollywood Reporter, "but the middle level has been cut out." The iconic actor who first captured hearts in "Titanic" now has an estimated net worth of $220 million.

So how does he fare in charitability? The four-time Academy Award nominee has been advocating for environmental issues throughout his career, starting a foundation to protect the Earth in 1998 when he was 24. Over the last several years, his foundation has allocated over $10 million to projects that protect ecosystems and species. The foundation funds three major areas: protecting biodiversity, ocean/forest conservation, and climate change. DiCaprio personally donated $2 million to the Ocean 5 fundraising initiative, and raised over $60 million for other projects within the foundation.