'About Elly': a skillful sociological thriller
Young Iranians on vacation at the seashore: When one of the group goes missing, the taut thriller takes off.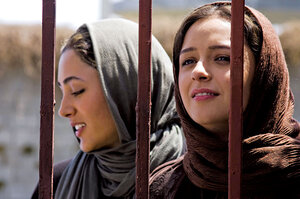 Courtesy of Cinema Guild
Asghar Farhadi's "About Elly," his fourth feature, was made in 2009, when it won the Silver Bear at the Berlin Film Festival, but due to rights issues, it is just getting its US distribution. It was made before "A Separation," a masterpiece.
"About Elly" is far from that, but it's a skillful sociological thriller set among a group of affluent young Iranians vacationing on the Caspian Sea. Elly (Taraneh Alidoosti), a kindergarten teacher, is invited into the gathering by Sepideh (Golshifteh Farahani, one of the screen's great beauties) in hopes of attracting her to the newly divorced Ahmad (Shahab Hosseini).
When the troubled Elly goes missing at the seashore, panic sets in. The missing-person thematic similarities to Michelangelo Antonioni's "L'Avventura" are sometimes uncomfortably close, and the film is a bit overstated as a microcosm of upper-middle-class Iranian tensions. But the dense interweave of relationships, a Farhadi specialty, is continually compelling. Grade: B (This film is not yet rated.)