'Infinitely Polar Bear' never comes to terms with the story's dangers
It would have been interesting to see what actor Mark Ruffalo could have done with his part of a man with bipolar disorder if he hadn't been encouraged to be puppyish and sweet.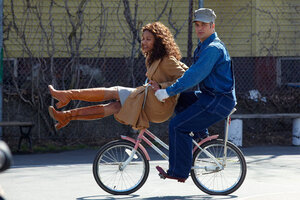 Claire Folger/Sony Pictures Classics/AP
Mark Ruffalo plays Cam, a man with bipolar disorder attempting to care for his two young daughters, in writer-director Maya Forbes's semi-autobiographical "Infinitely Polar Bear." His wife, Maggie, played by Zoe Saldana, still loves him, but they live apart. Her frustration at not being able to afford a private school for her girls (winningly played by Imogene Wolodarsky, the director's daughter, and Ashley Aufderheide) leads her to enroll in Columbia Business School in order to earn a degree that will enable her to earn enough to pay for tuition. The problem is that Cam and the girls will be living together, in Cambridge, Mass., while she commutes home on weekends from New York.
Although Maggie's decision is depicted as selfless, it could certainly be interpreted as something else; and entrusting the girls to Cam seems fraught with dangers with which the film never really comes to terms. Despite some occasional moments of real sadness and terror, the turmoil in this movie is decidedly on the upbeat. I would love to have seen what Ruffalo could do with this part were he not encouraged to be puppyish and sweet. Grade: C+ (Rated R for language.)