'Fantastic Four' has pallid plotting and cheesy effects
The new superhero movie stars Miles Teller, Michael B. Jordan, Kate Mara, and Jamie Bell as a group of young adults who achieve superpowers through a teleportation mishap and face off with Victor Von Doom (Toby Kebbell).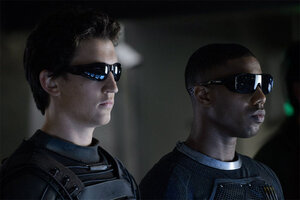 Ben Rothstein/20th Century Fox/AP
I've seen some dull superhero movies in my day, but "Fantastic Four," written and directed by Josh Trank, gets the booby prize. Just because it's derived from Marvel Comics doesn't mean it's marvelous.
Miles Teller, in a real gimme-the-paycheck performance, is Reed Richards, who gets backing from a covert science foundation to build a teleporter. One thing leads ploddingly to another until we are presented with the far-from-fantastical four, including Johnny (Michael B. Jordan), Sue (Kate Mara), and Ben (Jamie Bell), who along with Reed have achieved Marvel-style powers through a teleportation mishap. Requisite bad seed Victor Von Doom (Toby Kebbell) might have made it the Fantastic Five if he weren't so doomy.
The special effects are cheesy, the acting perfunctory, the plotting pallid. If this film spawns a sequel, anything goes. Grade: D (Rated PG-13 for sci-fi action violence and language.)