'The End of the Tour' captures the relationship between writing and celebrity
'Tour' stars Jason Segel as David Foster Wallace and Jesse Eisenberg as the Rolling Stone journalist profiling him. The movie also gets at the wariness and competitiveness inside the journalist-interviewee dynamic.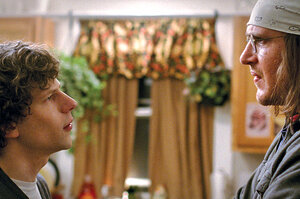 A24 Films/AP
"The End of the Tour" is a species of road-trip movie about the real-life 1996 encounter between Rolling Stone journalist David Lipsky (Jesse Eisenberg) and novelist David Foster Wallace (Jason Segel), whom Lipsky was profiling for the magazine on the last leg of a book tour for "Infinite Jest," the novel that catapulted Wallace to culthood. Because we know that Wallace killed himself 12 years later – the film flashes back from the devastating news – the encounter takes on added weight and poignancy.
Directed by James Ponsoldt from a script by Donald Margulies, the film gets at the wariness and competitiveness inside the journalist-interviewee dynamic and, in Segel's performance, captures the quandary of an immensely gifted and immensely troubled writer who disdained the celebrity he also, without fully fessing up to it, sought. Grade: B+ (Rated R for language including some sexual references.)