'Remember' is preposterous but Christopher Plummer brings pathos and dignity
'Remember' stars Plummer as a widower living in an assisted living facility who attempts to track down an Auschwitz camp commander.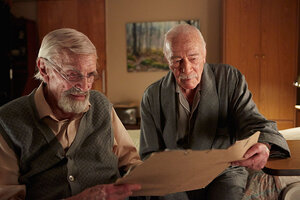 A24 Films
There are movies that are terrible and yet, because of some naggingly compelling core idea, are still compelling. Such a beast is Atom Egoyan's revenge fantasy "Remember," written by Benjamin August and starring Christopher Plummer as nonagenarian Zev Guttman, a recent widower living in an assisted living facility near New York. Both Zev and fellow resident Max (Martin Landau) survived Auschwitz. With his wife gone, Zev, whose memory is slipping, is tasked by Max, who uses a wheelchair, to track down the camp commander responsible for murdering both men's families. Max believes this man, Rudy Kurlander, is living in the United States under an assumed name, and provides Zev with the addresses of four possible suspects.
The plot, as it unwinds, is increasingly eye-poppingly preposterous, but it holds you anyway, not only because of its outlandishness but because Plummer, against all odds, brings pathos and dignity to a role that doesn't deserve him. Grade: C+ (Rated R for a scene of violence, language.)