'My Golden Days' is too knowingly coy for its own good
'Golden' stars Quentin Dolmaire as Paul Dédalus, whose devotion to the captivatingly flirty Esther (Lou Roy-Lecollinet) is the on again, off again core of his existence.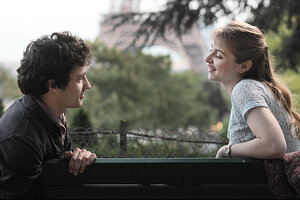 Magnolia Pictures
Adolescent love in all its ardor is the ostensible subject of Arnaud Desplechin's "My Golden Days," but its real subject is moviemaking itself. The film is an arty grab bag of lifts and homages drawn from French films, most pointedly director François Truffaut's. It's the kind of movie that probably appeals best to film critics, who can congratulate each other for spotting all the "in" references. 
Divided into three sections, it's mostly about Paul Dédalus (played as a young man by Quentin Dolmaire), whose devotion to the captivatingly flirty Esther (Lou Roy-Lecollinet) is the on again, off again core of his existence. There are some perceptive passages dealing with the infuriating inconstancy of young love, and a few pointed scenes featuring the adult Paul (played by Mathieu Amalric), but overall this overlong movie is too knowingly coy for its own good. Grade: B- (Rated R for some strong sexual content, graphic nudity, and language.)