'Money Monster' becomes an unintentional parody
'Monster' stars George Clooney as a loudmouth stock market TV pundit and Julia Roberts as his producer. The two must act when Clooney's character, Lee Gates, is taken hostage on air.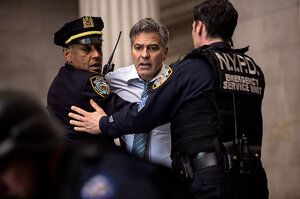 Atsushi Nishijima/Sony Pictures/AP
George Clooney plays a loudmouth stock market TV pundit in "Money Monster," a wildly ambitious but misguided thriller directed by Jodie Foster that is way too big for its britches. Clooney's Lee Gates is held hostage during a live telecast by an enraged investor (Jack O'Connell) while his producer (an all-business/no smiles Julia Roberts) and millions of viewers look on, aghast. The armed intruder, Kyle Budwell, lost his life savings on a bad investment tip from Lee and demands to know why. 
Channeling everything from "Network" to "Dog Day Afternoon," Foster and her writers, Jamie Linden, Jim Kouf, and Alan DiFiore, try to expand this tinny little suspense plot into a Statement with a capital S about corporate corruption and the nefariousness of Wall Street. As the action becomes more and more implausible, with Kyle dragging Lee into the city streets with NYPD battalions in tow, "Money Monster" turns into an unintentional parody. Investing in this movie would not be a safe bet. Grade: C- (Rated R for language throughout, some sexuality, and brief violence.)