'Maggie's Plan': Some of it plays like a generic indie rom-com
'Maggie' stars Greta Gerwig as Maggie, who cozies up to a married adjunct professor and novelist (Ethan Hawke). The actors are sprightly and Julianne Moore as the professor's wife, Georgette, shows her astonishing versatility.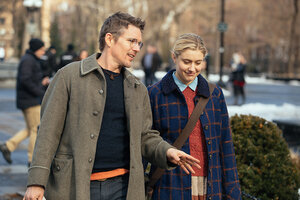 Courtesy of Sony Classics
I've never quite connected with Greta Gerwig in her movies. She's obviously funny and talented, but there's a gawky amateurishness to her acting that often wears thin for me. She needs a strong hand to rein in her cutesy eccentricities but most of the time her directors indulge her excesses. (An exception, although I'm in the minority in thinking so, was her teaming with Barry Levinson in the underrated "The Humbling" opposite Al Pacino.)
Gerwig is still doing her Greta Gerwig act in "Maggie's Plan," but, in her best moments, there's also a slyness and a depth to what she does. Her Maggie is an employee in the New School in Greenwich Village who cozies up to John Harding (Ethan Hawke), an adjunct professor and novelist who is married to Georgette (Julianne Moore), a Danish intellectual and fellow professor whose achievements overshadow his.
Maggie, who is single, wants to have a child and is tired of waiting for Mr. Right. Although John has all the earmarks of Mr. Wrong (at least for her), the inevitable happens. Except there's a twist involving Maggie and Georgette that is, both thematically and emotionally, anything but predictable, and yet seems entirely believable.
Writer-director Rebecca Miller never wrests her movie free of its associations with the films of Woody Allen and Noah Baumbach, and some of it plays like a generic indie film rom-com. But the actors, for the most part, are sprightly, especially, improbably, Moore, sporting a Danish accent a mile wide. That she is entirely convincing in the role, and not a joke, is a tribute to her astonishing versatility. Grade: B (Rated R for language and some sexuality.)