'Weiner': The protagonist of the documentary remains something of a cipher
'Weiner' centers on New York congressman Anthony Weiner and his run for mayor in 2013.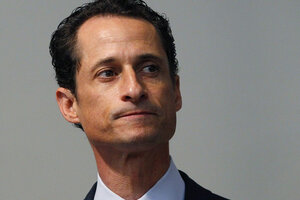 Mike Segar/Reuters
Anthony Weiner, the fiery New York congressman and mayoral candidate whose career went down in flames after a series of sexting scandals, is the subject of "Weiner," co-directed by Elyse Steinberg and Josh Kriegman. It would make a great double bill with "Client 9: The Rise and Fall of Eliot Spitzer."
Kriegman worked for Weiner in 2005 and 2006, which probably explains why Weiner allowed the filmmakers extraordinary access to film his run for mayor in 2013. It is during this run that new sexting revelations, postdating Weiner's previous mea culpas, emerged. Forging ahead despite widespread opprobrium and cratering polls, Weiner is a man obsessed – with his own ego. His wife, Huma Abedin, a close aide to Hillary Clinton, stands by her man but for most of the movie seems mightily aggrieved.
Despite the access Weiner provided the filmmakers, he remains something of a cipher. Not that too many people are hankering to know even more sordid details about this sordid affair. What's clear is that many of Weiner's supporters within the mayoral campaign stuck with him only because of Abedin's connection to the Clintons. Hey, it's politics.
Virtually missing is any record of the role that conservative muckraker Andrew Breitbart had in Weiner's undoing. Given the film's otherwise exemplary thoroughness, this exemption is especially odd. Grade: B (Rated R for language and some sexual material.)