What 'Moonlight' Gotham Awards wins could mean for the Oscars
The movie became one of the big winners at the Gotham Independent Film Awards, taking prizes including best feature. Does this give it a better chance at the Oscars?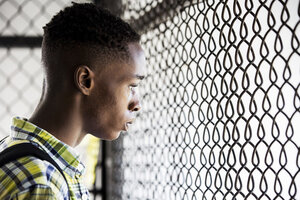 A24 Films/AP
The film "Moonlight" was a big winner at the Gotham Independent Film Awards, the latest prizes to be presented as the Oscars race continues and many watch to see what movies will become Academy Awards frontrunners.
"Moonlight," which stars Alex R. Hibbert, Ashton Sanders, Trevante Rhodes, and Mahershala Ali, won awards including best feature and best ensemble at the Gotham Independent Film Awards.
The film tells the story of a young African-American man at various stages of his life and has received very positive reviews. Prior to the Gotham Independent Film Awards, "Moonlight" had already been part of the awards season discussion. 
What relationship do the Gotham Independent Film Awards have to the Oscars? In the past two years, those behind the Gotham Awards selected "Spotlight" and "Birdman" for best feature, which are the two movies that went on to win the best picture Oscar that year. 
But the match-up between Gotham best feature winner and eventual best picture winner was more rare before that, with the 2008 movie "The Hurt Locker" the only movie to take both prizes between 2005 and 2013.
Does "Moonlight" winning best feature at the Gotham Awards make the film's chances better at the Oscars? Variety writer Ramin Setoodeh called the win "perhaps a sign of things to come this awards season." Mr. Setoodeh also pointed out the match-up with "Spotlight" and "Birdman," and wrote, "At the least, the Gothams … will offer a boost of momentum for 'Moonlight.'" 
Scott Feinberg of the Hollywood Reporter wrote that the wins by "Moonlight" aren't a guarantee of Oscars success, but that the wins might remind the Hollywood community about the film. 
"The handful of Gotham voters is miles away from being a scientific sample for the large pool of ultimate Academy voters," Mr. Feinberg wrote, adding "What the Gothams can – and may well – do is point Oscar voters' attention in certain directions."