'Split' doesn't deviate from director-writer M. Night Shyamalan's standard fare
'Split' stars James McAvoy as a man with dissociative identity disorder who has kidnapped three teenage girls. Betty Buckley co-stars.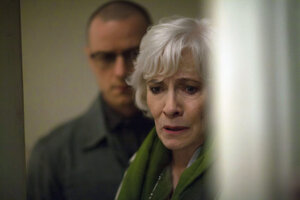 Linda Kallerus/Universal Pictures/AP
Ever since he made "The Sixth Sense," his one good movie and far and away his biggest hit, writer-director M. Night Shyamalan has been attempting to rekindle the fire. "Split," his latest foray into heebie-jeebie hokum, has at least some novelty going for it. James McAvoy plays a character with dissociative identity disorder (DID), which, in movie terms, means we get to watch him play out multiple personalities ranging from flamboyant fashion designer to frightened 9-year- old. All in all, this guy has 23 separate personas, with a dreaded 24th on the horizon. About eight or so personas are actually on display, and that's plenty. I worried Shyamalan might go for the full 24 – all of which, for all I know, may end up as extras on an extended-play DVD director's cut.
Aside from McAvoy's tour de force, which eventually and unintentionally devolves into a tour de farce, "Split" is an unseemly chamber of horrors. The DID character has kidnapped a trio of nubile teenage girls and trapped them in a storagelike underground facility in order to carry out something unspecified and nefarious. The most industrious of the trio, played by Anya Taylor-Joy, spends much of the movie expanding her big brown eyes in fear. The guy's psychiatrist, played by Betty Buckley, is on speaking terms with all 23 personas and thinks that DID represents some kind of supernatural evolution of the human species. Guess where she ends up?
Shyamalan is a one-trick pony who needs to find a new rodeo. Grade: C- (Rated PG-13 for disturbing thematic content and behavior, violence and some language.)