Sam Elliott and Laura Prepon are quietly effective in 'The Hero'
The film stars Elliott as an over-the-hill actor who was recently diagnosed with cancer. In family scenes, director Brett Haley and co-writer Marc Basch don't plow any new dramatic ground.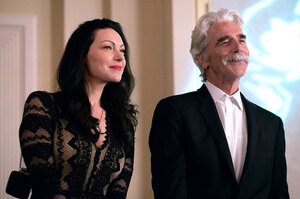 Courtesy of The Orchard
Aside from Sam Elliott providing voice work for a bevy of commercials in that unmistakable rum-and-honey drawl of his, the actor has lately been making a mini-career out of playing the silver fox to a host of older women in such films and TV projects as "I'll See You in My Dreams" (Blythe Danner), "Grandma" (Lily Tomlin), and, on Netflix, "Grace and Frankie" (Jane Fonda).
In "The Hero," playing Lee Hayden, a over-the-hill Western movie star who has recently been diagnosed with cancer, he finds himself pursued by Charlotte (Laura Prepon), a sultry stand-up comic in her mid-30s who has a "thing for old guys." For much of the movie, Lee keeps his dire health a secret not only from Charlotte but also from his ex-wife (played by Elliott's real-life wife, Katharine Ross) and estranged daughter (Krysten Ritter). This leads to the inevitable generic scenes about familial mending and dysfunction. Director Brett Haley and co-writer Marc Basch don't plow any new dramatic ground here, to put it mildly, but Elliott, who, despite that voice, does most of his acting here with his eyes, is quietly effective, and so, in what could have been a queasy role, is Prepon. Grade: B- (Rated R for drug use, language, and some sexual content.)