'Red Sparrow' is all grim oppressiveness
Mary-Louise Parker's cameo is a highlight in the film about a lethal Russian agent (Jennifer Lawrence).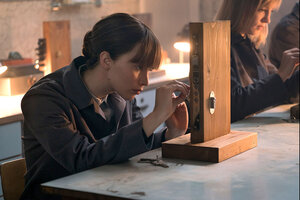 Murray Close/Twentieth Century Fox/AP
Jennifer Lawrence is a strong dramatic actress ("Winter's Bone," the "Hunger Games" movies) and an even stronger comedian ("American Hustle," "Silver Linings Playbook"). In "Red Sparrow," in which she plays Dominika, a lethal Russian agent, she never, as far as I could tell, cracks a smile. Or at least not a smile that isn't secretly a sneer.
This would be all well and good if the role were deservedly dark, but it's not. It's the centerpiece of high-gloss, highly sexualized espionage claptrap with an overlay of faux female empowerment: Dominika is pretty much an equal-opportunity scourge. It's an indication of how much this film needed a bright break in all the grim oppressiveness that when Mary-Louise Parker shows up in a giddy cameo as a foul-mouthed boozer, the audience suddenly lit up with laughter. Grade: C+ (Rated R for strong violence, torture, sexual content, language, and some graphic nudity.)