Mariah, meet the new Mariah
On 'E=MC2,' Mariah Carey discovers fresh musical equations while multi-octave newcomer Leona Lewis gets into the 'Spirit' of things.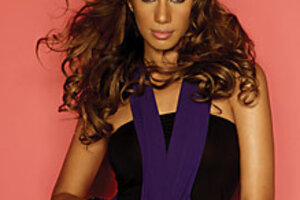 Courtesy of rca group
Mariah Carey – E=MC2 (Island): Songbird Mariah Carey slinks back onto the music scene with a sultry 11th album and some new tricks. Here, she brings some reggae flair, crooning "no mon" on "Cruise Control" with Damian Marley, and takes us back to the 1970s on the groovy disco-dance track, "I'm That Chick." On the album opener, "Migrate," she sings a five-octave scale melody, which forms the fabric of a hypnotic club beat for the ultimate party anthem, and she playfully purrs on the flirty single "Touch My Body." While the album glides on snappy R&B beats, some ballads fall short, with Hallmark-card sentiments about last kisses and rekindling romances. Carey is willing to take chances, and there's nothing more attractive than embracing change with such assurance.
Leona Lewis – Spirit (J Records): It's true that UK songstress Leona Lewis could be compared to many other divas, but she's clearly in a league of her own on the album "Spirit," which just debuted at No. 1 on the Billboard album chart. With strong pipes, she reassuringly sings emotional ballads with conviction. Some of the album – such as the bouncy "Forgive Me" – focuses on failing relationships while the hit "Bleeding Love," a song so catchy it can't help but make a mental footprint, is about recovering from heartbreak. Still, Lewis's forte is her inspirational tunes about companionship and guidance. On "Whatever It Takes," she croons about overcoming obstacles and brings the beloved Christian poem "Footprints" to life with the bonus track "Footprints in the Sand." Backed by a gospel choir, her voice soars with delicate beauty, like the ocean tide drifting across the beach.