CD reviews: Scarlett Johansson, Sonny Landreth, Curt Smith
An actress's not-quite-starring role, gourmet guitar, and an '80s icon's return.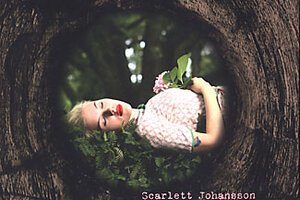 Scarlett Johansson – Anywhere I Lay My Head
Having a great voice isn't necessarily a prerequisite for an album of Tom Waits covers. But the voice had better be expressive. Waits's growling, world-weary vocal delivery always accentuates his greatest strength: his lyrics. Scarlett Johansson doesn't possess black-belt vocal chops – she's shown up by backing vocalist David Bowie on two tracks – and the actress's line readings are curiously emotionless. The Hitchcockian blonde just doesn't convince as a Beat-poet barfly. (One exception: The 23-year-old's inspired take on "I Don't Want to Grow Up," its catchy disco rendering galaxies away from the original or the Ramones version.) The album really belongs to producer David Andrew Sitek (from TV on the Radio) who recognizes that Johansson's deep, languorous voice is most effective when utilized as just one of the many instruments in the mix. Music boxes, mandolins, jingle bells, kalimba, and Tibetan bowls all contribute to the architecture of Sitek's sonic soundscapes. It's all very cinematic – just don't expect Johansson to play the starring role, even if her name is on the marquee. – Stephen Humphries
Curt Smith – Halfway, Pleased
Never heard of Curt Smith? Well, you've most definitely heard him. As one of the two lead vocalists in Tears for Fears, he sang on such hits as "Everybody Wants to Rule the World." His new album, "Halfway, Pleased," will be released on compact disc but it will be subject to a Creative Commons license online so that fans can perform, copy, and distribute its songs (as long as the songwriter is properly credited). If enough listeners cotton to "Halfway, Pleased," it stands to become a viral success. Smith has been creating this record off and on for the past seven years, so he's stockpiled nearly an album's worth of potential singles. One contender: "Seven of Sundays," with a chorus that glides on the wings of the singer's keening falsetto. Another is the melancholy gilded "The Greatest Divide," a gorgeous melody that uses a pedal-steel guitar to accent its lush sound. The Sgt. Pepper harmonies of "Perfect Day" make it an ideal album opener, though its sunny disposition juxtaposes awkwardly with its dark sentiment. The oblique lyrics are the album's only real minus. Melodically, it's ideal for ears in need of a tuneup. – S.H.
Sonny Landreth – From the Reach
If you're going to invite a group of high-profile guests over, you'dbest lay out your good silver and get busy in the kitchen. GuitaristSonny Landreth has prepared a gourmet spread of songs for luminariessuch as Eric Clapton, Robben Ford, Mark Knopfler, Jimmy Buffett, andVince Gill to tuck into. But the proceedings still revolve around thehost, a slide-guitar virtuoso who, unusually, uses the bottle neck onhis little finger to free his other digits to dance around the frets.Louisiana-based Landreth is joined by Knopfler for a post-Katrinalament that begins with the elegant lyric, "Air Force One had a heck ofa view/ Lookin' down the patchwork of the blue-tarp blues." Theguitarwork and vocals are so distinctive that one needn't refer toliner notes to identify which speaker belongs to which player. And whatpairings. The heat-mirage shimmer of Landreth's slidework is an idealfoil to Eric Johnson's Perrier-clear guitar tone on the instrumental"The Milky Way Home." On a blues-based album brimming with joyfulcamaraderie, the highlights may just be "Howlin' Moon," featuring Dr.John, and the Bo Diddley-esque "When I Still Had You," featuring aninvigorated Clapton. Given the quality of the hospitality, it's littlesurprise that Clapton, Gill, and Ford stick around for several songseach. – S.H.