Record Store Day: Five gems worth hunting for
Saturday is Record Store Day, an occasion to give thanks to the socially challenged luddites and misfits who are bravely and somewhat foolishly keeping the big 12-inchers alive and rotating from coast to coast! Huzzah! And Gabba Gabba Hey, y'all!
I confess without shame that, many years ago as an art student, I spent most of my tuition money at one such hot, dusty vinyl den, Aron Records on Melrose Ave. in Hollywood, Calif. It was in Aron's burgeoning bins of advance DJ copies (50 cents each) that I discovered a young, wildly talented Elton John, stumbled upon the great Ry Cooder and the criminally underrated Little Feat, fell hard for Dusty Springfield, and built my voluminous Monk collection. And that was just my first semester.
As you might imagine, I've unearthed a few treasures over the years at Aron, Rhino Records, and other favorite haunts. Here are five gems that you'll never see warping in the sun at a garage sale at my house.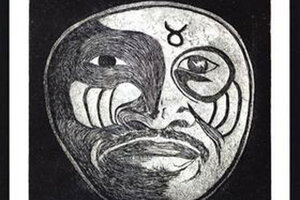 5.

The Natch'l Blues - Taj Mahal

I discovered powerhouse bluesman Taj Mahal's second album on my first trip to San Francisco's Tower Records (R.I.P.) in 1969. An eclectic collection of blues standards and originals by Taj and his killer band, including the coolest Native American lead guitar player ever, Jesse Ed Davis. Another stunning album jacket from the Columbia Records design team.