Whitney Houston's Grammy wins
The singer, who died Feb. 11, was in possession of a legendary singing voice and was called the female music artist with the most nominations in history by the Guinness Book of World Records. Her first album reached the top of the Billboard Top 200 and stayed at No. 1 for 14 weeks, and her second debuted at the No. 1 spot, remaining there for 11 weeks. In addition to other accolades, Houston received 26 nominations from the Grammy Awards and took home six statuettes over the course of her career. Here are the songs and performances that won her Grammys.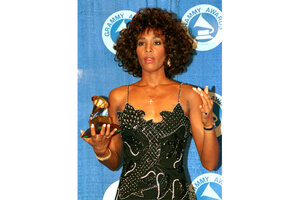 1.

'Saving All My Love for You'

Houston won her first Grammy in 1986 for the Best Female Pop Vocal Performance category for her song "Saving All My Love for You." That year, she was also nominated for Album of the Year for her self-titled album and Best Female R&B Vocal Performance for her song "You Give Good Love."