Fall Out Boy plans new album, tour
Fall Out Boy will release its new album this May and a new song by the band is currently available on iTunes. 'This isn't a reunion, because we never broke up,' Fall Out Boy said on its website.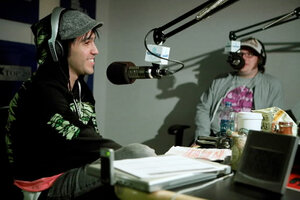 Becky Sapp/Island Def Jam Records/PR Newswire
Fall Out Boy unveiled plans for a new album and world tour on Monday, three years after the pop punk band's four members announced a hiatus to pursue solo projects.
"This isn't a reunion," the band said on its website, "because we never broke up."
The new album, "Save Rock and Roll," will be available worldwide on May 6-7. A tour kicks off Monday night in Chicago.
A new song, "My Songs Know What You Did In the Dark (Light Em Up)," is available on iTunes.
"When we were kids the only thing that got us through most days was music," the band's website statement said. "We needed to plug back in and make some music that matters to us. The future of Fall Out Boy starts now."
Fall Out Boy soared to fame in 2005 with the album "From Under the Cork Tree." Hit songs like "Sugar, We're Goin Down" and "Dance, Dance" mixed energetic guitars and angst-ridden lyrics. The group released two more albums in 2007 and 2008 but went on an indefinite hiatus in 2009.
The band's members include bassist and lyricist Pete Wentz, vocalist and guitarist Patrick Stump, guitarist Joe Trohman and drummer Andy Hurley.