Songwriter Rod Temperton wrote classic pop track 'Thriller'
Rod Temperton worked on various hit songs, including the Michael Jackson song 'Thriller.' He also worked on music for artists including Heatwave, Karen Carpenter, and Herbie Hancock.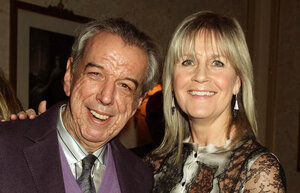 Yui Mok/AP
Rod Temperton, who died last week, was a songwriter who is likely best known for writing the ultra-popular Michael Jackson song "Thriller." 
Mr. Temperton also penned songs such as the Heatwave song "Boogie Nights" and the Jackson's song "Rock with You."
The British songwriter also worked on tracks for many other artists, including Aretha Franklin, Karen Carpenter, Herbie Hancock, and Michael McDonald. 
The album "Thriller," on which the song of the same name appeared, has become one of the most popular works of music of all time. Late last year, the album "Thriller" became the first album to become certified 30 times multi-platinum in the United States. 
The album includes such other classics as "Beat It" and "Billie Jean." Songs on the album that were also written by Temperton include "Baby Be Mine" and "The Lady in My Life."
And the video that accompanied the song "Thriller" is considered a classic of the genre, one that had a huge influence on the medium. Shelby Morrison of the Rock & Roll Hall of Fame wrote that the video "is among the most influential music videos of all time," while Vanity Fair writer Nancy Griffin called it "the most popular music video of all time … [it] changed the business." 
The video premiered on MTV when the TV network was in its infancy and MTV reportedly played the music video for "Thriller" twice an hour after it became incredibly popular. 
As for the song itself, Billboard writer Daniel Durchholz writes that "even before it became music video's defining moment, the audio track for 'Thriller' was already a classic horror flick that played between your ears. A vivid monster-mash-up penned by Rod Temperton, the song features gruesome (but fun) lyrics, sound effects of creepy footsteps, wolf howls and slamming doors, plus actor Vincent Price's indelible recitation."