Two and a Half Men kills off Charlie Sheen's character
Two and a Half Men: Charlie Sheen's character, Charlie Harper, is no more. According to CBS, the ninth season of the hit comedy will open with the character's funeral.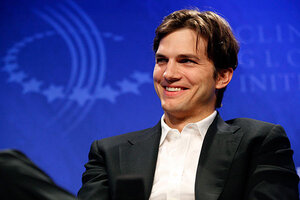 Chip East/Reuters/File
Ever since CBS announced in March that Charlie Sheen would not be returning for the ninth season of "Two and a Half Men," the future of the show has been uncertain.
Yes, we know that Ashton Kutcher, known for his comedic roles in "That 70s Show" and "Dude, Where's my Car?" will be replacing Sheen, but how would that work, exactly? After all, was not Sheen's character, Charlie Harper, the centerpiece of the show? Would room be made for an eventual reappearance by Harper, or would he be eliminated altogether? Would Kutcher take on the role of Charlie Harper, or would he play a new character?
Now we know: Charlie Harper has permanently exited the "Two and a Half Men" universe. CBS has announced that the ninth season will kick off with Harper's funeral. His house, the recurrent location and set-piece, will also be up for sale. CBS said via Twitter on Wednesday that Kutcher will play Walden Schmidtt, described as an "an Internet billionaire with a broken heart." Schmidtt will be introduced as a potential buyer of Harper's home. He will certainly need to be as funny as the man in the casket once was, a tall order when dealing with the show's dedicated, yet understandably suspicious, fans.