Netflix proves more viewers want to call the shots
As Netflix sets subscriber records, it continues to release high-caliber original content and its upcoming shows seem promising as well. More and more streaming options mean viewers are coming closer to cutting the cable cord altogether.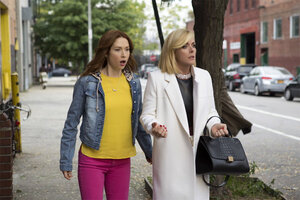 Netflix/AP
Anyone who needed even more evidence of Netflix's TV dominance got it recently when the service announced it now has more than 62 million subscribers in more than 50 countries, causing stock in the company to skyrocket. 
The number of subscribers Netflix added during the first quarter of this year – 4.9 million – was a record as well.
What's drawing viewers? In addition to a library of movies and TV shows, Netflix is producing high-caliber original content. Programs such as "House of Cards" and "Orange Is the New Black" have dominated the pop culture conversation since they debuted. Netflix also became the first production company to win a major Emmy for a series ("House of Cards," in 2013) distributed online-only.
The future only looks brighter. Netflix scored again with favorable reception to its 2015 shows, the quirky "Unbreakable Kimmy Schmidt" (produced by Tina Fey), and "Daredevil," which debuted in April. For "Daredevil," Netflix partnered with Marvel to release four shows, each focusing on a member of the superhero team the Defenders. Adding to the proof that the superhero fad isn't disappearing into the galaxy, "Daredevil" has already been renewed for a second season.
The momentum gathering behind the Netflix locomotive is just another indicator that TV viewers are coming even closer to cutting cable cords completely. Other companies have been quick to follow its lead: CBS, Nickelodeon, and Dish offer services that stream their live programming online, and HBO recently debuted its HBO Now online service – no cable sign-up required. According to a recent Nielsen report, on-demand subscriptions are now reaching 42 percent of households in the United States.