Javascript is disabled. Quiz scoring requires Javascript.
How well do you know Jon Stewart's time on 'The Daily Show'?
On Aug. 6, Jon Stewart is reportedly stepping down as host of 'The Daily Show' after seeing the program through four elections and much political turmoil. The effect of Stewart and his show on America and the world was such that he was voted the most trusted newscaster in the country in a poll in 2009 despite the fact that his program centers on skewering the media and current events. As for the future, comedian Trevor Noah is taking over hosting duties for "The Daily Show."
How well do you remember Stewart's time on the program and some of his reactions to current events? Try out our quiz!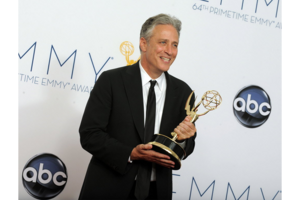 Jordan Strauss/Invision/AP
1.

Whether by coincidence or not, what program was canceled soon after Stewart's appearance, during which Stewart said it was 'hurting America'?