Point of view: When time stood still
A Monitor photographer captures an intimate moment between newlyweds amid the blare of Times Square.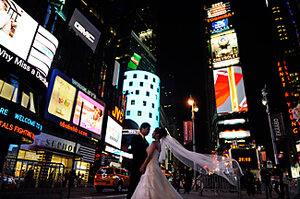 Mary Knox Merrill / The Christian Science Monitor
Millions of people file through Times Square every day, taking in a kaleidoscope of sights and sounds. On assignment in New York City to photograph billboard advertising, I stumbled upon a bride and groom having their picture taken. They caused quite a stir as people stopped to catch a glimpse of the happy couple.
As their photographer swirled around them, I waited for the right moment. With video screens blazing and news tickers streaming, an assistant lifted the veil and released it into the breeze. It may have been a choreographed moment, but the sincerity in their eyes led me to think that even though they were standing in the midst of chaos, they felt they were the only two people on earth.