Point of View: Imaginative, giggly energy
In a dance studio in small-town Mississippi, a group of 4-year-olds leap and twirl in pink tulle.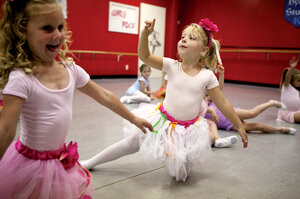 Melanie Stetson Freeman/Staff
I had parachuted into Philadelphia, Miss., with no warning and had to rely on the kindness of strangers to get my photographs. I wandered around downtown. It sure was small. Shawn Byars Studio – a kids' dance studio – had a storefront on Main Street. I walked in. Soon I was welcomed into a world filled with 4-year-old girls in tutus, aka photographer heaven.
The girls ignored me and performed, mugging to themselves in the mirrors, curtsying, leaping, and twirling in pink and white tulle. For about an hour, I was immersed in a wonderful world filled with imaginative, giggling energy. I never wanted to leave.