Bruins and Flyers put classic in hockey's Winter Classic
Fenway Park's 'ice game' reminded many why hockey is so great, though the indoor game still lacks draw for many.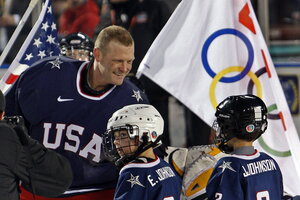 Jim Davis/Boston Globe/AP
Why is the NHL's new Winter Classic tradition the league's best move since the salary cap?

This year's outdoor New Year's Day battle between the Boston Bruins and Philadelphia Flyers summed it up: Take a classic venue – Fenway Park – impose an inexplicable image (a hockey rink on Yawkey Way), add some snowflakes and some greasy winter light, and it's an indelible flashback to childhood, at least for those born north of the Mason Dixon line.

Indeed, the Classic accurately defines hockey as a spectacle born of an innocent childhood experience, what Flyer D man Chris Pronger remembered as hitting the pond in the afternoon and finally getting off after many "just 5 more minutes" in a wintery dusk. (Read this Monitor article about hockey's return to its roots.)
Skate until dark
"This is hockey," Bobby Orr (he of the sideways goal) told the Boston Globe's Dan Shaughnessy, who wangled an interview with one of Beantown's all time greatest. "We'd go out in the morning and skate in Georgian Bay or on the Seguin River. All of our skating was outdoors. Sometimes you need to be downwind. Our parents just told us to be home for dinner, or when it got dark.''

But for all its nostalgic and organic pluckiness, the outdoor game also provides a contrast for why the 82-games-per-season indoor game, to an extent, still flounders next to other pro sports.

Fans can argue that the stadium game is too sanitized and showy, too gladiatorial, too impersonal beneath those mono-color helmets. With the game open to the skies, the drama is heightened, and the distance of the crowd and the intimacy of the rink-side cameras make the players seem more human, and each key moment somehow that much more grandiose.

To be sure, the indoor game is far cleaner and more predictable. When the Pittsburgh Penguins played the Sabres in Buffalo two years ago, only three goals were scored, although that could be partly explained by the blizzard bearing down on the Lake Erie shore at game time. Last year's Classic between the Chicago Blackhawks and Detroit Red Wings, meanwhile, had 10 goals, many of them showy. On Friday, careful defense reigned as the puck bounced around on the outdoor surface, and kept careering unexpectedly out of the corners.

Philadelphia Daily News columnist Sam Donnellon framed the debate about hockey's appeal (or lack of) as a conversation with a fictional hockey novice from San Antonio.
Outdoors hockey more a game of chance
"That's what you tell the guy from San Antonio: that the game under normal conditions can be as helter-skelter as baseball is structured, that pucks take way more odd hops than baseballs do, and that penalty calls can be as maddening and inconsistent as some umpires' strike zones," he wrote.
"Add headwinds, 38-degree weather and an ice surface that chipped up quickly … and it becomes even more of a game of chance."

Arguments about some blown calls aside, the imposition of the hockey gods' will on the outdoor game, of course, is part of the appeal for both players and fans. And if the players who scored will likely never forget their goals, fans also got to see some classic moments. There was Philly enforcer Daniel Carcillo, who revels in his lack of front teeth, and Boston's Shawn Thornton opening up the action with a throwdown, the first fight of the Classics.

Expressive Bruins goaltender Tim Thomas let his emotions get the better of him, pushing a Philly player out of the crease only to let the puck fly by him. And Mark Recchi's' late-game equalizer and Marco Sturm's OT game-winner and subsequent on-ice jubilance (like they'd won the Stanley Cup or something, noted defenseman Zdeno Chara) helped make it a special event that at the very least, as Mr. Shaughnessy writes, reminded Bostonians that "we are, and forever will be, people of ice, blades, laces, and warm breath blowing through cold air."

Playing outdoors, of course, is at the end more than a gimmick, but won't define the future direction of the NHL as much as other recent moves (including a crackdown on meaningless staged fights).

But if there's one detail of the outdoor game that the NHL would do well to bring inside, it's the post-game handshake. Now practiced only after deciding games in the playoffs and the Stanley Cup, the handshake humbles this sometimes violent game, and adds, not detracts, from its inherent drama.

Players lining up to congratulate their opponents after yesterday's Classic added a satisfying stanza to a game that surely left the hockey gods grinning, toothlessly.
-----
Follow us on Twitter.