Obama's NYC terror trial switch: Pragmatism or indecisiveness?
The Obama administration says it won't hold the trial of Khalid Sheikh Mohammed and other Al Qaeda suspects in Manhattan after all, mainly because of security costs and community backlash. But to some, it's another political misstep.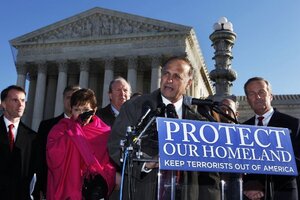 Manuel Balce Ceneta/AP
The positive symbolism of American-style justice – bringing 9/11 terror suspects back to the scene of the crime – marked the Obama administration's bold decision last year to try the suspects in lower Manhattan, just five blocks from where the twin towers fell.

But the cost and practical reality of trying accused mastermind Khalid Sheikh Mohammed and four other alleged Al Qaeda lieutenants in New York City proved, in the end, too large a burden. The Obama administration on Friday acknowledged that it has abandoned Lower Manhattan idea and is looking for other sites in New York.

The administration says it's making a pragmatic move and is sticking by its basic and most important premise: To try the men in a US civilian court instead of in a military tribunal.

But how the seemingly inevitable cost and security scenario escaped the administration in the first place is a key question, and one that gives both supporters and critics a clue into how the president and his cabinet shapes and makes decisions.
Pragmatism – or indecision?
To many, Obama's decision shows a welcome pragmatism in sharp contrast to President Bush's stubborn go-it-aloneness, Washington Post columnist Sally Quinn told Bill O'Reilly on Fox News "The Bill O'Reilly Show" Friday night.

Critics call the turnaround a rookie mistake, evidence that the administration is led by ideology and is heeding bad advice. They say the switch is part of a growing list of political missteps as the President's ambitious progressive agenda runs up against constituent backlash in even liberal enclaves like New York and Massachusetts.
"The seemingly hurry-up decision to move the trial to New York City and the equally abrupt decision to move it away from there smacks of federal officials acting before thinking," writes Peter Roff of US News & World Report. "It projects indecision, which might be OK when discussing the right way to count the impact the stimulus has had on job creation but is positively irresponsible when it comes to the war on terror."
2,000 metal barriers in Lower Manhattan?
Cost became a major factor. Mayor Michael Bloomberg's estimate of $200 million in yearly costs to the NYPD for dogs, snipers, and overtime began to overwhelm the plans. Many New Yorkers also worried that the city that would once again become an inviting target for another attack.

Moreover, a trial in Manhattan would mean cordoning off heavily-trafficked areas with 2,000 metal barriers, upsetting daily life in Soho, TriBeCa, and Chinatown – areas directly affected by the 9/11 attack itself.

"In my view, trying Khalid Sheikh Mohammed in New York City presents an avoidable danger, very large costs, and undue burdens on the city," Sen. Dianne Feinstein (D) of California, who chairs the Senate Intelligence Committee, wrote to Obama.

Supporters say Obama simply did the right thing.

"The White House and the Justice Department are simply being responsible by taking newly-documented concerns into account," writes the Washington Post's Eva Rodriguez.

On the other hand, the decision adds to criticism of the president's governing strategy, and whether he's really in touch with public opinion.

"[The NYC trial decision] had a touch of arrogance, going against the grain, and a bit of the out-of-touch attitude that has plagued the Obama presidency." writes Luisita Lopez Torregrosa, on the Politics Daily website.
Where to now?
Though officials wouldn't discuss locations under consideration, experts have suggested Governors Island, which is a former military base in New York Harbor (video tour here); the U.S. Military Academy at West Point; or Stewart Air National Guard Base in Newburgh, N.Y., the Associated Press reports.
-----
Follow us on Twitter.