New life for Pontiac Silverdome: First up, monster trucks
The Pontiac Silverdome in Michigan, sold in November for about one percent of its 1975 construction cost, will reopen its doors with a monster truck event and a soccer tournament in April.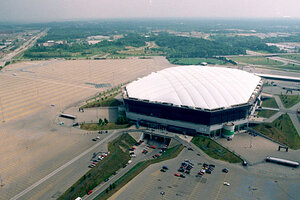 Mary Schroeder/Detroit Free Press/Newscom
Five months after the Pontiac Silverdome was sold at the fire sale price of $583,000, a Canadian real estate investment group has announced it will reopen the venue in April as a multiuse complex, despite a lawsuit that contests the legitimacy of the sale.
For a decade, the Silverdome has been a symbol of economic distress in southeastern Michigan, an area hit hard by mass layoffs, a shrinking population, the foreclosure crisis, and automotive plant closures. The hulking arena was sold via an auction sponsored by the city of Pontiac for about 1 percent of its $55.7 million construction cost in 1975.
In a press conference Thursday, Silverdome spokesman Tom Constand emphasized the venue's role in helping to revive the local economy. "We'll be creating jobs, working with local vendors and businesses, and making the Silverdome an engine of economic impact and community support," he said.
City officials at Thursday's press conference agreed. "This is a good day for the city ... to have the Silverdome on the cusp of becoming a major regional entertainment center again," said Fred Leeb, Pontiac's emergency financial manager. "The facility is poised to again generate revenue for the city and is expected to be a key piece in Pontiac's economic rebound."
The sale to Toronto-based Triple Investment Group was the basis of a lawsuit against the city by investment group Silver Stallion, which had eyes on the site but did not get past the negotiation stage. A trial date is set for Sept. 23.
The Ponitac City Council released a statement saying that the Silver Stallion lawsuit is still pending and that "ownership status [is] to be decided by the courts."
Triple Sports & Entertainment plans to host as many as eight events at the Silverdome this year. The first two scheduled are "Domination in the Dome," a monster truck and motorsports event April 17, and the "Green Soccer Bowl," a multinational tournament featuring teams from Nigeria, Ghana, Puerto Rico, and beyond, May 20-23. According to concert industry trade publication Pollstar, the Silverdome is also set to host a June 19 concert by Indian film composer A.R. Rahman.
Future engagements will include "athletic events, family shows, music acts across all genres, faith-based events, religious gatherings, consumer shows, and other events," Mr. Constand said.
The venue is considered one of the largest of its kind in the US, sitting on 127 acres and with a capacity of 82,000. In its heyday it hosted events ranging from a Bruce Springsteen concert and Super Bowl XVI, to a 1987 Catholic mass conducted by Pope John Paul II, and served as the home of several major Detroit-area sports teams.
But after the Detroit Lions' 2001 departure for Ford Field in downtown Detroit, the venue was used only sporadically, contributing to its disrepair. Upset over the Silverdome's $1.5 million annual upkeep costs, the city had considered demolition before the 2009 auction.
To bring the venue up to current standards, the new owners plan to upgrade the VIP suites, renovate concession areas, paint all public spaces, and perform cosmetic upgrades to all Silverdome restrooms. Partnerships with the Marriott Centerpoint Hotel Group, Comcast, and Pepsi are expected to contribute to the venue's upgraded amenities.
Constand noted that Silverdome ticketing will not go through industry giant Ticketmaster, but will be brought in-house through a live box office and special website.