Exclusive Masters fits Tiger Woods return to a tee
For a paparazzi-hounded Tiger Woods, there couldn't be a better place to return from scandal than the genteel and oh-so-private bastion of the Masters' Augusta National Golf Club.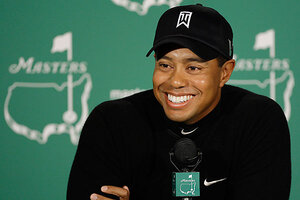 Chris O'Meara/AP/FILE
Tiger Woods announced Tuesday that he will return to the top duffing ranks Apr. 8 at Augusta National for this year's Masters tourney.
The Masters, of course, is the pinnacle of the American golfing calendar, possessing the power, perhaps, to regenerate a career interrupted mid-swing by fiasco.
Perhaps more to the point, however, is that Augusta National is the Shangri-La of the golf world, near impregnable to all but the exclusive and initiated, giving Mr. Woods the perfect place to reenter the sport without catcalls from the gallery or paparazzi lurking behind the 18th green.
IN PICTURES: Tiger Woods through the years
In short, Mr. Woods' choice of Augusta will allow the embattled billionaire golfer a soft landing for his return to golf after a four-month hiatus as he dealt with the fallout from admitted infidelities.
"Augusta is one place in the world that you can really have control, and they will control everything from the crowds to the situation that will be facing Tiger," golf great Arnold Palmer told the PGA website.
Added columnist Nick Pugliese at Gazette Online: "Utter even so much as an anti-Tiger peep at Augusta National and it's your head that will be lopped off as well as your Masters ticket. Forever."
(Although Woods should be able to protect himself. Remember when he went through four days of basic training at Fort Bragg?)
Augusta's august past
Walled off with a tall chain-link fence, Augusta's clipped links and Fortune 500-style member list epitomizes the kind of security blanket Woods needs as he emerges from months of sex addiction therapy. Media credentials are tightly controlled and tickets are passed down through families, keeping the riffraff out.

Security has not always been airtight, though.
In October 1983, with President Ronald Reagan on the links, a man crashed through the front gate in a pick-up truck, wielding a gun. He took several hostages and hung up twice on Mr. Reagan, who attempted to mediate the situation. The man eventually released the hostages unharmed, and surrendered.
In part designed by the late Atlantan Bobby Jones, who gave each hole the name of Southern flora like Azalea and Juniper, the course has been walked by myriad presidents, who have left marks such as Ike's Pond and the Eisenhower Tree, which the former president fruitlessly requested be cut down after he repeatedly struck it.
Moreover, Augusta – perhaps more than any other course – represents the conservatism and class-consciousness of golf. The club's decision to not extend memberships to women erupted into controversy in 2002. (Still excluded as members, women are now allowed to play as guests on the links.)
The membership controversy also tightened the bonds between Tiger and Augusta. In a decision where he caught rare backlash, Woods refused to condemn Augusta for the policy.
A home for Tiger
Augusta also marks high points in Woods's career. It was there he embraced his father with a giant bear hug after winning by a record 12-stroke margin at age 21, the first of four green jackets he's shouldered. And in 2005, Woods hit the famous chip shot on the 16th hole where the ball skipped up a hill, rolled 25 feet down the other side, snuck up on the hole, and hung on the lip for a full two seconds before dropping in.
So Augusta not only offers a familiar place to get his tee shots straight, but features the added narrative of a possible win, which for many fans would go a long way toward forgiveness of Tiger's transgressions.
"The Masters is where I won my first major and I view this tournament with great respect," Woods said in a statement. "After a long and necessary time away from the game, I feel like I'm ready to start my season at Augusta."
Critics, though, see the venue choice as a sign that Woods has not really embraced a new direction in life after all. "[Tiger] certainly hasn't changed his approach to his public life or his business," writes NBC Sports' Mike Celizic. "The choice of Augusta shows that. From Tiger's point of view, it's as risk-free as it gets."