BP: We've been too slow to pay Gulf oil spill claims
A federal official said Thursday that BP acknowledged it has been too slow in paying claims to people affected by the Gulf oil spill. BP has vowed to streamline the process.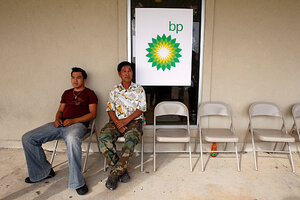 Patrick Semansky/AP
From Washington to Gulf Coast waterfronts, pressure is mounting on BP to ramp up its efforts to compensate people whose lives and livelihoods have been put on indefinite hold by the Gulf oil spill, now in its seventh week.
Business owners in the Gulf are increasingly unhappy with what many see as a claims process tripping over its own red tape.
During a meeting with federal officials yesterday, BP acknowledged that the pace of payouts isn't fast enough, according to Tracey Wareing, an official with the Federal Emergency Management Agency assigned to oversee the claims process.
IN PICTURES: The Gulf oil spill's impact on nature
BP appears to be learning about regionwide claims management on the fly, just as it was learning about containing oil flowing from its ruptured undersea well on the fly. Officials say they have trimmed the time it takes to process claims and cut checks from nearly a month and a half to two days.
The company is shifting to a system that pays out claims in advance "to allow businesses to pay their expenses for the upcoming month," rather than forcing businesses losing money from the spill to continually play catch-up with last months' bills, she said during a press briefing today.
At the same time, she said the unified joint command has asked BP to make sure it paces the compensation to match the the seasonal nature of some of the work in the region. If a small business makes most of its income during the summer, then it should receive its largest compensation checks during that period, rather than in 12 equal monthly installments.
Charter fishing '100 percent out of business'
During an ordinary year, summer is prime time for the charter-fishing business, notes Capt. Benjamin Fairey, who operates the 62-foot fishing boat "Necessity" out of Orange, Ala.
In a typical year, he says, his craft attracts a substantial number of customers, in addition to vacationers who decide on the spur of the moment to take a break from the beach and spend a day fishing. During red snapper season, which runs from June 1 to July 24, his vessel typically is out on trips 75 to 80 percent of that period, he explains.
But once the National Marine Fisheries Service began closing sections of the Gulf to fishing because of the Deepwater Horizon blowout, cancellations began to pour into his office, he says.
Indeed for many in the region, the oil spill may represent the last straw – the latest in a series of setbacks. Hurricanes Ivan and Katrina took their toll. Then the industry had one year of decent returns before the recession took hold, Mr. Fairey says. Then, in 2008 and 2009 the federal government dramatically tightened restrictions on red snapper to prevent overfishing.
This year was shaping up as the turnaround year for the charter fleet, Fairey says, because the National Marine Fisheries Service was increasing the allowable catch for red snapper. The snapper season opened on June 1. On June 2, the government shut down the fisheries off the coast because of the oil spill.
"That basically put the offshore charter fleet 100 percent out of business," he says.
Congress pressures BP
He gives BP credit for turning many of the charter boat crews into seagoing sentries to spot oil approaching the coast. And he and other charter operators were meeting with BP today to build what he called a compensation template that takes into account the seasonal nature of the charter-fishing business. That template would then be applied to charter outfits in other ports affected by the spill.
Other business owners say they are teetering on the brink. Regina Shipp, who owns a restaurant with her husband in Orange, told the Associated Press that repeated calls to adjusters aren't being answered. "If BP doesn't pay us within two months, we'll be out of business."
US House Speaker Nancy Pelosi (D) of California said today that a company that made $17 billion in 2009 should put payments to affected Gulf businesses ahead of dividend payouts.
The oil giant "should be paying these small businesses first," she told reporters after a meeting at the White House between President Obama and congressional leaders.
IN PICTURES: The Gulf oil spill's impact on nature
Related: