LeBron James show: a one-hour ticket to his fabulous universe
LeBron James can send shivers through the stock market and destroy Cleveland singlehandedly, it would seem. With his ESPN special Thursday, LeBron James is now taking athlete worship to a new level.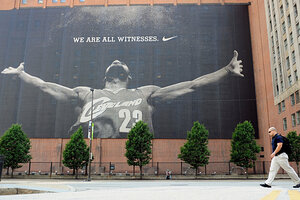 Newscom
King LeBron James will decree his will at last.
From Tiger Woods's mea culpa to the rise of the NFL draft as national drama, the worship of bulky duffers and tattooed dudes with a knack for the ball is set to dial up another notch Thursday night. Mr. James, the most coveted and closely watched basketball free agent since the advent of cable television, will announce on ESPN where he'll deliver his dunks for the next few years.
Will it be Chicago, New York, Miami, or will the two-time MVP stay with the Cleveland Cavaliers?
What is known is that James's announcement will come shortly after 9 p.m. Eastern time as part of an hour-long TV special – "The Decision" – cooked up by James, which will be broadcast from the Boys and Girls Club of Greenwich, Conn. What is also known – or at least strongly suspected – is that the statement upon which the sporting world hangs will take about as much time to say as, "Man, I'm really in the mood for some chicken wings tonight."
To fill out the remaining 59-plus minutes, there will be interviews with journalists Jim Gray and Michael Wilbon, as well as a cavalcade of others. In short, the world is kindly being allowed a one-hour visitor's pass to LeBron James's fabulous universe.
It is, in some respects, a fitting conclusion to James's coy dance across the constellation of NBA cities. By placing himself at the nexus of sports and entertainment so ostentatiously, he has certainly driven up his own price. A move to New York could net him $1 billion in salary and endorsements, potentially making him the second athlete, behind Woods, to achieve that landmark.
James's cross-country tour has sparked unprecedented speculation in what has already been an blockbuster summer for free agents – one that will strain the NBA's ability to pay all those salaries and keep a modicum of equity through its salary cap.
Even the Leader of the Free World will be watching. "The president still believes that [James] would look quite good in a [Chicago] Bulls uniform," White House spokesman Robert Gibbs told reporters.
But the James free agency courtship also has a troubling side, both for the sport and the media.
For basketball, reports that he may choose to join friends Dwayne Wade and Chris Bosh in Miami could tilt the sport toward the "power entourage" – where athletes, not general managers and coaches, move the chess pieces around the league.
Moreover, "The Decision" is another enormous lurch toward players becoming bigger than the teams they play for, certainly, and perhaps even than the game itself. While there is no doubting James's talent, there is also no doubting the fact that the hype surrounding him far exceeds his sporting accomplishments.
Indeed, Thursday's hour-long TV special speaks to how James has partnered with and used the media to amplify his public image. His marketing team sold the ads for the program and will receive the proceeds from them – though James has said those proceeds will go to the Boys and Girls Clubs.
In any case, the program on ESPN will be a product wholly packaged by Team LeBron – from the venue to the format to the ads to the hand-picked journalists to interview him. To some critics, this is worrying.
"I find this to be a bastardization of the role of the media insofar as in a democratic society we view the media as an independent source to report on news, but here the subject of the news is controlling the presentation of the media," says Andrew Zimbalist, an economist at Smith College. "So in that way I find it absurd, but [in this context] it's also harmless."
Not harmless to the cities and clubs involved, however. Madison Square Garden's stock price shot up 6 percent after a recent visit from James, and the city of Cleveland could stand to lose $48 million a season if James leaves, according to one recent analysis by the Cleveland Plain Dealer.
But for all the interest, James' gambit could also invite hard questions about his character.
"I thought he was a good player, but this takes it a little too far for me," says Mr. Zimbalist. "Standing up on the mountain and saying, 'I'm great, pay attention to me,' it's a turn-off."
Related: